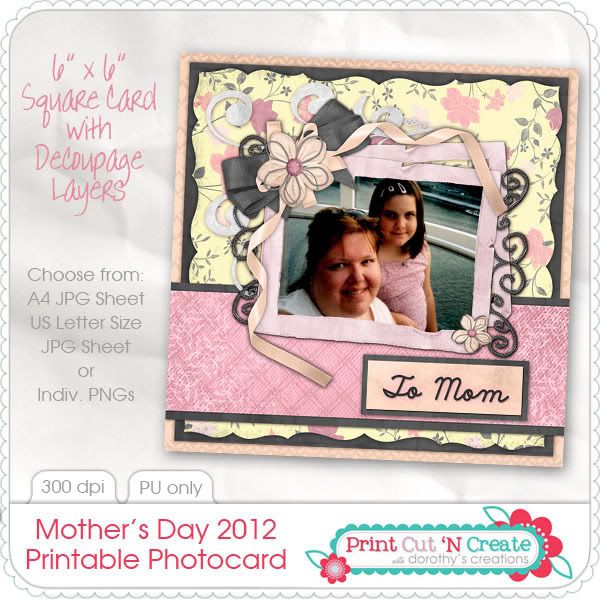 Mother's Day is this coming Sunday here in the UK and their may be some of you who got caught out for a card. Maybe I can help you out with today's freebie! (Yep the photo on the card in the above preview is me and my daughter Aurora when she was 8 yrs old. My photo is NOT included with this freebie...whew aren't cha glad? lol.)
I created a printable Mother's Day cardfront sheet here with decoupage layers and sentiments. The best part is it's a Photo Card! Just place a photo of your choice inside the frame to personalise it just for your own Mum. It's so easy to make a quick card,
I have the download for you here in a few ways.
1. You can download JPG sheets in A4 world or US Letter sizes so you can print straight from Windows Picture Viewer.
2. If you would like to add your photo to your card using your own Cardmaking Program such as Serif's Craft Artist, My Craft Studio, etc or using a graphics program like Paint Shop Pro or Photoshop Elements, then download the ZIP file that contains everything on the sheet as individual PNG files with transparent backgrounds.
It's your choice...then just PRINT, CUT and CREATE your card!