Here I am with today's Hybrid Humpday video and I am so excited to bring you today's project: PAPER PLEATING. I saw something similar to this on a blog a long time ago and I added it to my list of things to try. I tried it and thought it looked so nice that I would share it with you.
Start with:
2 - A4 sheets of printed paper: 1 Pattern and 1 Plain (I used a pair from one of my Ink-Saver Paper Packs come out next week.)
Below I am giving you the meaurements of all the pieces I used in this card so you can give it a go yourself:
Base of Card:
15 cm x 15 cm - Card Base fold on top. I used Coredinations cardstock colour Izuma Purple.
14.5 cm x 14.5 cm - Silver mirror card square
14 cm x 14 cm - Pattern Paper square
Paper Pleats:
27 cm x 6 cm - Paper strips: 1 Pattern and 1 Plain
Border Trim:
15 cm x 1.5 cm - Plain Paper strip for trim
Ribbon, bow and/or embellies
Sentiment:
6.5 cm x 2.5 cm - Silver Mirror piece
6 cm x 2 cm - Plain paper piece
5.5 cm x 1.5 cm - White Cardstock piece
Sentiment rub on, stamp or printed out.
If you have any questions or want to show off your paper pleats, just leave me a comment with your blog link. Can't wait to see what you come up with!
Here's the card from the front and side views: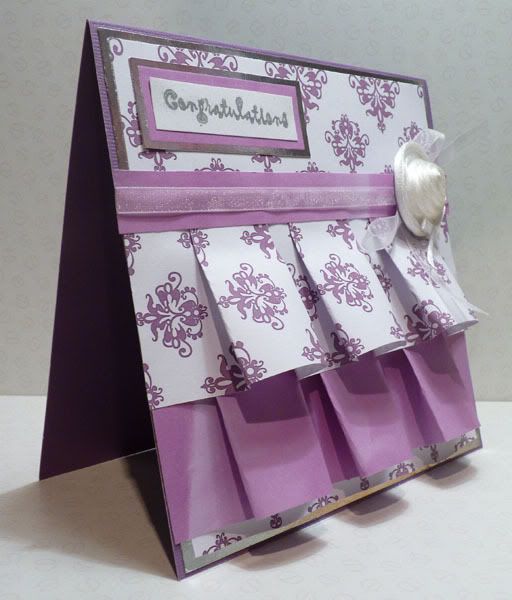 Now here is your Hybrid Humpday video showing you how this was done: