Here is another one of those pesky resolutions that everyone seems to put on their list each year. We all want to make more money and along with that in my life that goes hand in hand with being more organised. I am a scatterbrain sometimes. I'm not dumb, I just misplace things, forget appointments...and its getting worse the older I get.
As for the getting organised part, I've always been a big fan of daily planners or diaries. I also love TO DO lists. But are you like me...you LOSE the to do list under a pile of junk? I have 2 ways that I am keeping my lists, one is hanging a daily list on the corkboard here in my office. I also keep one on my Google homepage that I look at every time I go online.
As for the make more money part, I want to revamp Print Cut N Create again. I desperately need to move to a new host as the one I have now is awesome...but expensive. Since I've not made much money the last year at PCNC, I'll be branching out in other shops. I'm also toying with another business idea but that won't get going until at least March. But they are planned...it's a good start.
Have you been wanting to start a new business? Do what the Nike ads say...JUST DO IT. The worst that can happen is you have an epic fail. I know, I've been there 3 times! I have failed at 3 businesses that I loved. I may fail at a few more but I know one day I will succeed...even if I don't, I had a wonderful ride along the way.
Here are some ideas for you on how to craft your way to better organisation and more money: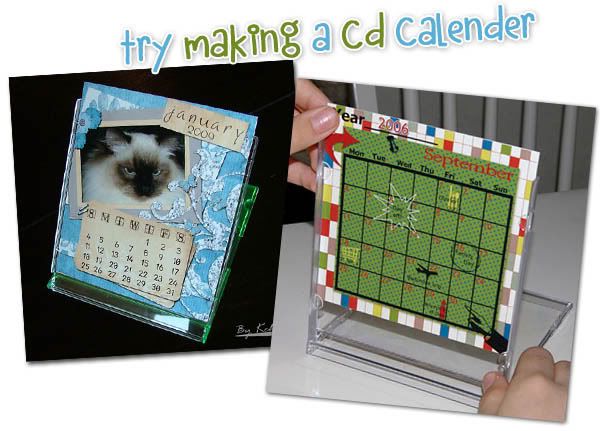 Kitty CD Calender by
Sugar Plum Paperie
Green & Checks CD Calender Tutorial by
Scrap Girls
The first planner is just of the many handmade ones you can find over at
Etsy
.
The coupon book was made by
Spotted Canary
Lastly, here is my Google homepage. I have 2 different apps with TO DO lists on it. Just sign into your Google account and customise your homepage with one of the many to do list apps.